Blog
> Welcome to Kolab Meet – Our new Voice & Video conference…
Welcome to Kolab Meet – Our new Voice & Video conference…
For some time, users asked us if we could create a Voice & Video Conferencing tool, and apply the same level of privacy and secure communication strategy to it, as we do with everything else that we do. A certain virus, a rise in home office activities and the popularity of online 'after work' partys made the request even more compelling; we re-focused our efforts to this task, and here is the result.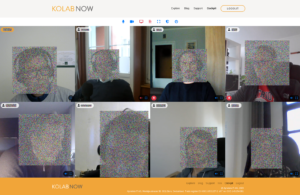 Kolab Meet, our new Voice & Video Conferencing tool is today released as a public beta. All Kolab Now users with full groupware subscriptions have access to their own conference room.
Users with individual accounts needs to enable the feature (..and full groupware) in the subscriptions. Users in a group account, needs the group admin user to enable the feature (..and full groupware) before the personal room can be accessed.
This is a beta release. Some features are available in a rough version, and more features will be added over time. The current version provides (among other stuff) the following features:
The room can be accessed through the 'Video chat' button on the dashboard.
This button will pop up a page, where you can find the link leading to your room.

Your room is only open when you are present. Invite other users by sending the link to them.

Screen Sharing
Whether you want to share a presentation with your boss or show Granny the pictures from your latest skitrip, you can Share your screen with the other party people in the room. Either share the full screen (not recommended) or share the actual application with the holiday pictures.
Room Security
The room is yours.. You decide who to let in. If your friends try to crash the call, or your boss wants to secretly listen in, you can allow or deny them access when they knock the meeting room door. If it is a meeting in the secret club, you can set a password that attendees needs to know to enter – or simply lock the door so attendees will have to knock.
Dismiss Attendees
It's your party, and you cry if you want to.. You decide who is in the room. If your uncle talks too much, your nephew doesn't turn down the hiphop in the background or if your co-worker is getting a bit too smart about those TPS reports, just kick them out. Click the user icon and then 'Dismiss'..
Silent Audience Members
That day when you have to defend your PhD, you don't want anyone to speak. They just have to LISTEN! For a webinar-style session, have participants choose 'None' for both the microphone and the camera. That way they will be silent audience members. This will also make space for more people in the room.
As noted, this is a beta release. It might come with some issues. We hope that you like what we are working on. Should you encounter any such issues, or should you just want to leave some feedback, then contact support and tell them how awesome you think Kolab Now is.